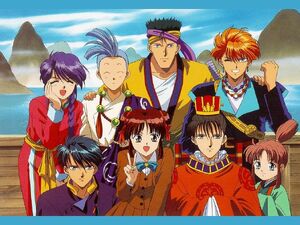 Summary
From Viz: Miaka Yuuki is an ordinary junior-high student who is suddenly whisked away into the world of a book, The Universe Of The Four Gods. There she becomes the priestess of the god Suzaku, and is charged with finding all seven of her Celestial-Warrior protectors.
This anime is also a manga! The anime has 3 OVAs.
Ad blocker interference detected!
Wikia is a free-to-use site that makes money from advertising. We have a modified experience for viewers using ad blockers

Wikia is not accessible if you've made further modifications. Remove the custom ad blocker rule(s) and the page will load as expected.