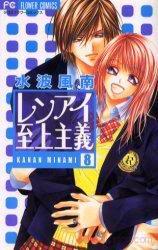 Summary
From ShoujoMagic: Karate girl Seri tries to kick away her past in order to catch a new guy at a singles party, but Tamaki, a childhood flame from her old karate dojo, shows up to show off and makes her heart pound. Their reintroduction leads to a karate challenge, and if Seri loses, she must become Tamaki's "toy"...!? It's a game of love with more rivals and obstacles (and sex!--LOTS of SEX!) than either Seri or Tamaki could have foreseen!
Inclues a side story called Virgin Beast in vol. 2.
Ad blocker interference detected!
Wikia is a free-to-use site that makes money from advertising. We have a modified experience for viewers using ad blockers

Wikia is not accessible if you've made further modifications. Remove the custom ad blocker rule(s) and the page will load as expected.