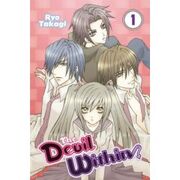 Summary
Rion had a traumatic experience when she was a child. Horrified after stumbling upon an adult film, she's convinced that all men are devils -- and it's hard to overcome her fear when her father is the worst one of all!! Thanks to him, Rion is thrown together with three different guys and forced to choose one as a fiancé! Suddenly faced with three impatient grooms, can Rion overcome her fear long enough to unveil her father's hidden agenda -- and get out of her impending wedding?
Ad blocker interference detected!
Wikia is a free-to-use site that makes money from advertising. We have a modified experience for viewers using ad blockers

Wikia is not accessible if you've made further modifications. Remove the custom ad blocker rule(s) and the page will load as expected.